Covered Corridor
The Covered Corridor is a latitude range with weather mild enough to accommodate covered slips for many of our boats. A boat stored in a covered slip keeps the sun and rain away and helps keep a boat looking pretty. Covered slips in conjunction with smooth freshwater provide a gentle environment for many boats in our area. Our boats are usually accessible all year long.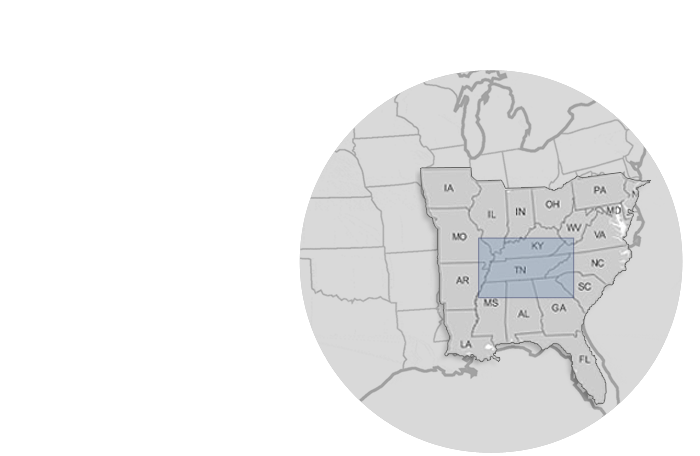 Dave;
Hope this note finds you and yours well. I just felt like dropping you a note about my 21-year experience with your and NYB. As I look back on my wonderful years of boating, I have to recognize you as being a big part of it.
A. In 2000 you Helped me find the absolute right boat to start this process of cruising boating, the 45 ft Californian.
B. Found the right surveyor to insure that we located a good boat.
C. Found the right trucker (Jim's Marine) to disassemble it, truck the boat (2 trucks) to a navigable waterway at Green Turtle Bay Marina, reassemble it, and launch it without a hitch.  (Hundreds of wires and cables to disconnect and reconnect on the Californian 45 ft ACMY) Amazing!
D. Traveled with me on the boat for several days of the trip up the Tennessee River to get it home to Chattanooga.
E. Taught me how to handle my first large boat.
F. Got my non-boater crew trained sufficiently to cruise the rivers and locks. (Not an easy task)
G. Then 12 years later when I was looking to downsize you found the perfect second boat.
H. Traveled to Connecticut to meet with the seller's broker and me to test-drive the 07 Back Cove 33 I still own and enjoy today…a wonderful little boat.
Thank you for the professional service and the friendship so helpful to my boating experience.  Look forward to more.
Chuck Smith
Just completed my boat sale with Kyle Leeper and Nashville Yacht. Kyle made the transaction seamless and kept me updated every step of the way! If you want to sell your boat, call Kyle and Nashville Yacht!
I wish yelp offered 10 Stars!! Having bought many, many boats over my years, this yacht purchase was by far our largest, most expensive purchase to date. Kyle and his amazing team went so far above and beyond providing us outstanding customer service in every area of this transaction!
My husband and I recently worked with Tyler Benson with Nashville Yacht Brokers and we were extremely satisfied with our experience. Being out of state buyers could have been complicated however Tyler's prompt communication and attention to detail made things simple.
Kyle Leeper has a true passion for the marine industry and an endless amount of energy when pursuing or selling a boat. He provides a professional approach to any situation, clear communication with his clients and is a competent voice of reason. I would have no hesitation in recommending Kyle!